Underfloor Heating

If you are laying a new floor covering in your home then underfloor heating is a feature which is becoming more and more popular, it is a great luxury and is much, much easier to install along with a new floor covering, and though it is expensive it is definitely worth some consideration.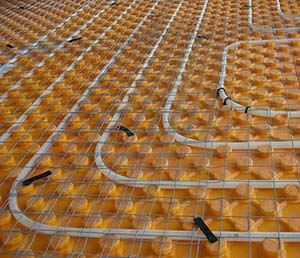 Underfloor heating can be fitted almost anywhere around your home, it is a great way to make more out of a conservatory, Having underfloor heating installed will mean warm floor and allow you to use the conservatory year through even in the coldest of winter nights. Or how would you like a nice warm floor to get out of the bath or shower onto after a soak?

There are a number of different options available when considering underfloor heating, they vary in method, cost and installation methods if you aren't sure which would be best for you then feel free to get in contact and discuss your requirements. Systems include electrical systems, panelling systems and plastic piping, they are usually heated from the electrics but most piping systems use hot water running through the pipes.

If you are considering having underfloor heating at your house then give me a call today and discuss your options, I am happy to come and see you for a consultation and give you some ideas an advice, it is always best to consult a professional as any mistakes made during fitting can be very difficult to put right once the new floor has been laid.

Professional Electrician
When carrying out an underfloor heating job Aldridge Tiles and floors partners with a qualified electrician to ensure that we use the highest levels of professional expertise.
Bathroom TilingTransform your bathroom into a beautifully stylish retreat with the help of our range of stunning bathroom floor & wall tiles. Get expert an expert tiler from a local tradesmen
Kitchen Tiling Add character to your kitchen with a wide range of floor and wall tiles professionaly fitted by a qualified tiler.