Conservatory Flooring

Installing a new conservatory on your home is one of the best ways of getting more space from your household, they are a gret place to enjoy the nature in your garden and soak in some rays as well as being a brilliant space for hosting and socialising. Once you have yoiur shiny new conservatory you will want dome beautiful floor covering to put the finishing touched to the build. There are a number of flooring options to choose from so it is worth giving the situation some thought and assessing your optioins before you make a final decision.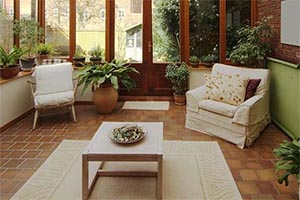 Tiled Conservatory Floors
Tiles are one of the most popular and suitable flooring option available to you when flooring your conservatory, they offer a beautiful finish to your conservatory with many tile types, patterns and even different materials to choose from such as ceramic and natural stone. Tiled floors are hardy and much easier to clean than other floor types which make them perfect for the room between your home and garden. There is a huge choice of floor tiles now available, some are smooth, some textured, there are a lots of sizes, colour and materials to choose from. If you fell like installing something special then you could look at having some natural stone floor tiles, they are a little more expensive but the effect they give is worth it, there are some beautiful porcelain or slate tiles as well many other stone types each offering a different effect and look.


Laminate Flooring In Conservatories
Laminate flooring is also a popular floor product for conservatories, it is a synthetic flooring choice fused with a lamination process, most laminate simulates a wood grain or stone effect which give a great aesthetic look to your floor. Floors are constructed using a tongue and groove technique and thus can usually be fitted with relatively little knowledge though the quality of the sub base is hugely important for the finish of the product and it is unadvisable to install laminate with no experience of the product. Boards are made from a fibre board or resins and are available in different qualities, sizes, thicknesses and prices to suit most pockets. With regards to the sub base it is recommended that the floor be flat and level or you will find that your laminate will bounce somewhat if the surface you plane to lay laminate on is imperfect or un-level then it should be prepared using a self-levelling compound, this is a tricky process especially over large surface areas and should not be undertaken by a novice.


Conservatory Flooring Options
There is no definitive rule as to what you can lay onto a conservatory Floor, if you wish you could have carpet or linoleum flooring (Lino), they are less expensive options and can offer a homely feel to your conservatory. One option growing in popularity is real wood flooring, it is an impressive looking feature and makes a great impression on your guests but comes at an increased cost.


Conservatory Underfloor Heating
If you are looking to ramp up the luxury in your conservatory then why not install some underfloor heating? It works the same as your home heating system does with a thermostat on which you select your desire heat setting and relax. Underfloor heating is not cheap but is the height of luxury and allows you to get much more use out of your conservatory in the colder months of the year.


How Much Does Conservatory Flooring Cost?
Costs can vary hugely depending on the type of flooring you are thinking of installing but I can help you through the minefield with a free, no obligation quotation. I can come and take a look at the floor you need covering and run you through the options available, I am happy to fit your flooring or can offer supply and fit. I have a large variety of sample tiles and laminate for your to choose from, it make the process both easier and cheaper as I am able to source materials at trade prices.

The happiness of my customers is of the upmost importance to me, I can supply photographs of previous work as well as references from many satisfied customers who have been thoroughly happy with the finished product on request.
Conservatory QuotesLooking at building a conservatory, get competetive low cost quotes for add a conservatory to your home
Kitchen Tiling Add character to your kitchen with a wide range of floor and wall tiles professionaly fitted by a qualified tiler.